Well, does he?
Of course not.
Awkward the Pulitzer people even had to address the question.
That Pulitzer Email
Under active development.
Detailed explanation to come, but this is the definitive email.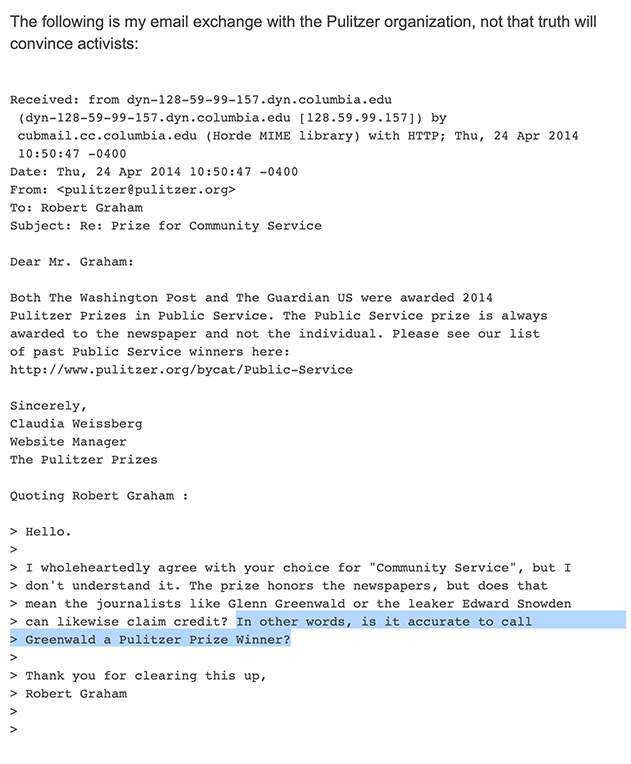 The Pulitzer website
Where's Glenndo?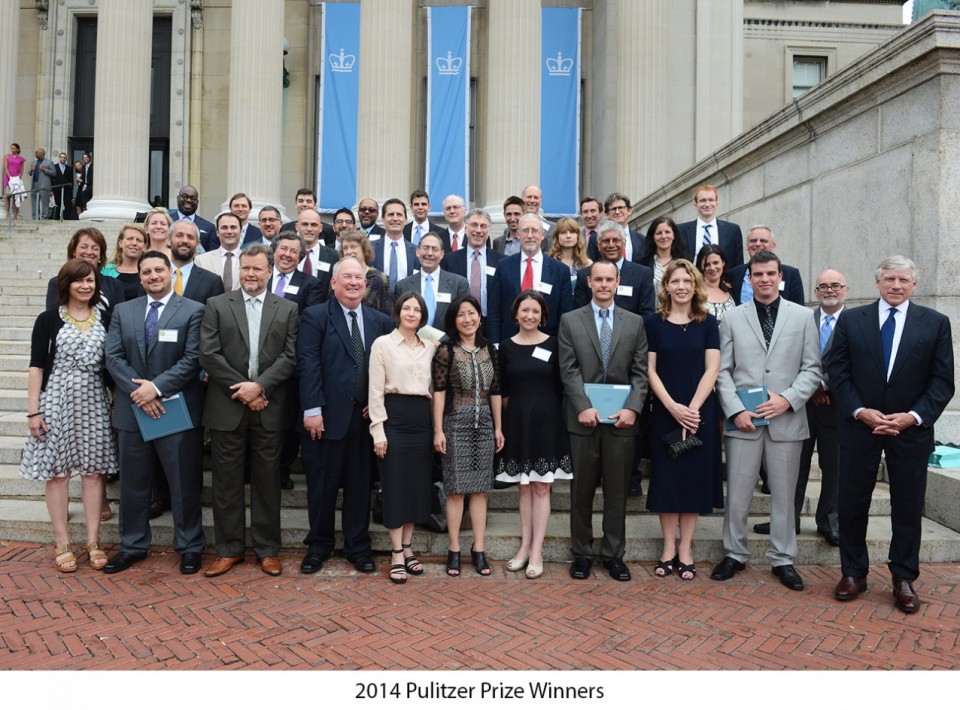 This appears on the Pulitzer website, with that caption. There are other photographs of the awwards ceremony at the bottom of that page including the Guardian awards winners.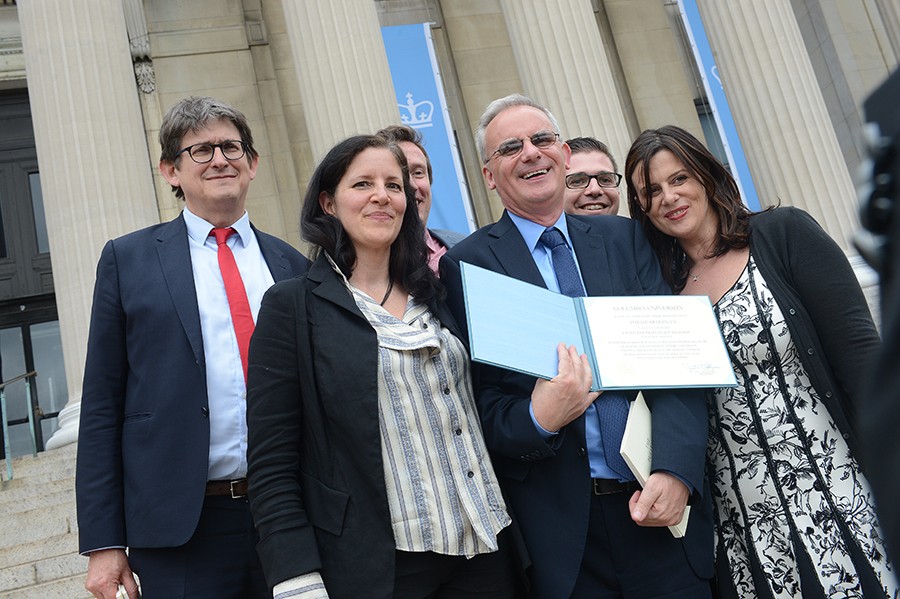 Do you really think Glenn would have skipped the awards ceremony if he'd been invited, when he bothered to fly from Brazil to the US for the awards annoucement and the Polk a month earlier?
"Will you let me hold your Pulitzer?"

Yes, that really is something Glenn tweeted.
What did Glenn pick up?
Glenn flew back to NYC barely in time to collect a Polk award and in anticipation of the Pulizer Prize annoucement.
During a very busy day, he found time to tweet excitedly about the release from prison of the neo-Nazi, Weev.
"What's up bro?"
Depending on whether you believe what was said at the time, or what Glenn said years later, he either:
spent the weekend partying with known Nazi Weev;
or was photobombed by unknown future Nazi Weev.
More details in the linked Twitter threads.
Yes, Nazis are famous for loving people like me: a gay Jew in an inter-racial marriage with brown children. Nazis adore us.

I met him once in my life - 6 years ago at a party that wasn't mine and before his Nazism was known. That he's my friend, let alone "bestie", is a lie.

— Glenn Greenwald (@ggreenwald) April 30, 2020
Best weekend in awhile. @rabite gets out, we party with @ggreenwald Laura Poitras and others, sunday lunch with @johncusack and @JPBarlow

— Gregg Housh (@GreggHoush) April 14, 2014
>

The time zone for the Wayback Machine snapshot
takes some figuring out,
but his four tweets came right after the Polk awards - when there was huge demand for interviews.

He still found time to tweet about Weev -
the guy he says photobombed him later that weekend. pic.twitter.com/IeIKhsN0ov

— Alan Stacey (@AlanVRK) February 17, 2022
It was tweeted in real time by Weev
- who was as enthusiastic about meeting Glenn
as Glenn had been tweeting about Weev one day earlier, when everyone else wanted to talk about his Polk award.

From the Wayback Machine. pic.twitter.com/4V3NlpbxzJ

— Alan Stacey (@AlanVRK) February 18, 2022
So what's that rabbit about?
Well he really does have a Hugh Hefner award of all his own Who needs a Pulitzer?
He didn't show up for that ceremony on May 20, 2014, but that's a whole other story:
#Snowden takes a selfie in Moscow with @ggreenwald, David Miranda and Laura Poitras https://t.co/bA92i3ZcFl pic.twitter.com/1qSOSpRFaI

— The Intercept (@theintercept) May 22, 2014