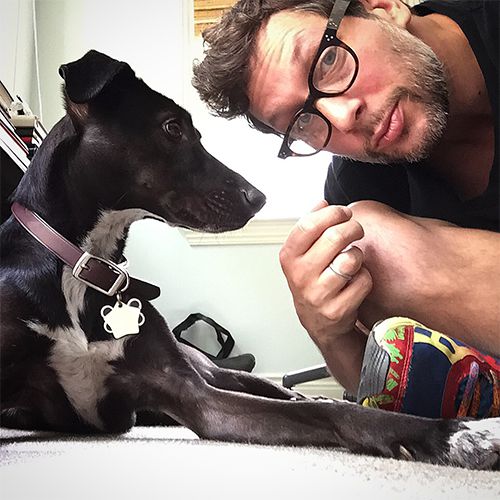 Jake Jaxson
CEO & Director. Fisherman. JakeJaxson.com
I'm an insatiable flirt.
Director Jake Jaxson is the CEO of CockyBoys, a gay adult entertainment company that he runs with his two long-time partners Benny Morecock and RJ Sebastian.
Jaxson (his nom de plum) has produced numerous award-winning documentaries, TV shows, and independent films, highlighted by an Emmy Award for TRIBEtv, a special produced as a love letter to his hometown, New Orleans. In 2004, he teamed up with Pulitzer Prize-winning journalist Glenn Greenwald by co-creating the blog that launched Greenwald's career, Unclaimed Territory.
Currently Jaxson's work is dedicated to the healthy, creative, and erotic exploration of gay sex! His life and work have been featured in New York Magazine, The Village Voice, OUT, Cosmopolitan, Elle, DNA, Salon, Paper, and Huffington Post.
RJ Sebastian is director of photography for CockyBoys, as well as the primary photographer for most of the shoots on the website. Jake Jaxson handed him a camera and encouraged him to start shooting the behind-the-scenes candid shots of the models. From there, RJ moved his way up to primary photographer, and has changed the look and feel of the CockyBoys websites images. RJ wants to transform the way pornographic photos are taken and viewed, and feels that you can shoot explicit images that can also live as art and live on their own. He never could have known his potential without the encouragement and support of Jake Jaxson.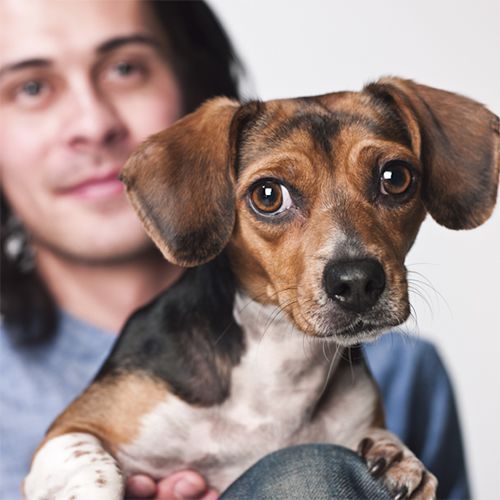 Benny Morecock
Chief Technology Officer. Knitter. NYMag.com
I do porn things, but I also do so much more.
When Benny started in the biz seven years ago, he didn't have a lick of programming or design experience. His claim to anything techno-savvy was that he'd heard mention that people had "blogs," this thing called Facebook was the new MySpace, and he had a slight addiction to video games (Elder Scrolls, anyone?). He first started in the business by uploading porn DVDs to eBay, then managing Studmall.com, starting his own blog BennyMorecock.com, and eventually taking over ownership of CockyBoys with his boyfriends Jake and RJ. After many sleepless nights in front of his computer, lots of Domino's pizza (not Pizza Hut) and 2-liter bottles of Coke, he's now one of the owners and the Chief Technology Officer of CockyBoys.
Along with Jake and RJ, Benny continues to expand the CockyBoys vision to create a complete entertainment experience. He wants to carry it beyond the cliché container of the porn genre -- where gay sex can be explored without guilt or shame, and even celebrated.
When he's not chained to his computer, Benny practices and teaches yoga & meditation, volunteers at a knitting group for blind women, and works with street children in Cambodia. He's an avid knitter, still enjoys video games, and Maker's Mark is the way to his heart. A Brooklynite for eight years, Benny now lives in Westchester with his two boyfriends, six dogs, one cat, a gecko, and formerly a snake that one of the CockyBoys "misplaced" (may he rest in peace). One day he hopes to have a goat. And chickens. Maybe a pig.
When Hugo started to work in the adult industry over a decade ago, none of his friends or family members were at the least bit surprised. As CockyBoys' in-house Gay Porn Addict, Hugo spends his days crafting the studio's eponymous DVDs and making spreadsheets look sexy.
Hugo spends his nights writing Sherlock Holmes slash fiction while simultaneously tackling his most daring culinary adventure yet: making the perfect croque-en-bouche.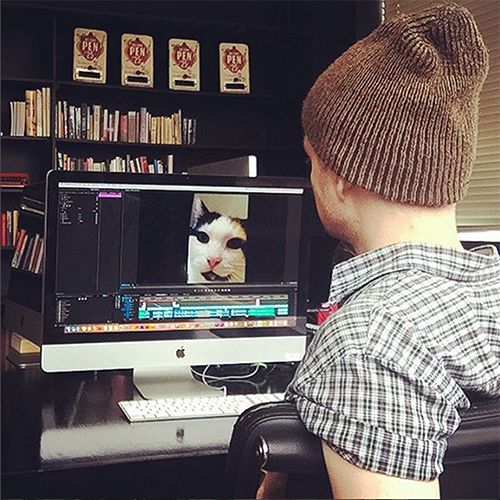 Cilantro Che Guevara
Editor. Writer. Cat Enthusiast.
They call editing the invisible art, and I'm okay with that.
Cilantro is a self-taught film editor who pieces together the story portions you probably fast forward through to get to the sex scenes on the CockyBoys feature films. But he aspires to win an Oscar for his work one day, maybe two. He lives in Greenpoint, Brooklyn, and passes Lena Dunham every morning on his way to the CockyBoys HQ. So far, he's edited a slapstick reality TV series (RoadStrip), a found-footage documentary and horror film (Fuck Yeah Levi Karter, Meeting Liam 4), and a steampunk fantasy morality play (Answered Prayers), but on his downtime, he enjoys underwater basket weaving. He's also a screenwriter, regular writer, musician, flea market junkie, and cat whisperer.
Lushus Lisa is a "Jane-of-all-Trades" who specializes in awesome customer service happiness. She's the girl behind the scenes that makes sure all the gears are greased and working. A North Carolina resident, Lisa works closely with Benny Morecock via the skype digital-verse to make sure the CockyBoys experience is the best that it can be. She loves puzzles, questions, sexy CockyBoys and her brand new iPhone who answers to Dante! ;)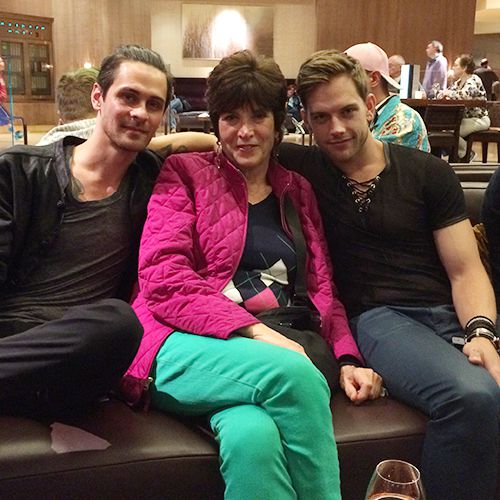 Cocky Carol Ann
Finance Manager. Traveler.
Travel light. Live Light. Spread the Light. Be the Light.
Having owned her own company for 24 years and bringing her ventures to China and back, Carol comes to CockyBoys with considerable acumen in small business finance and management.
Carol joined the CockyBoys team almost two years ago. While she spent the first few months averting her eyes, she now can watch a full feature-length CockyBoys production (almost) without hitting fast forward.
Carol finds the CockyBoys culture one of the most supportive, interesting and challenging experiences she has ever had— and lots of fun!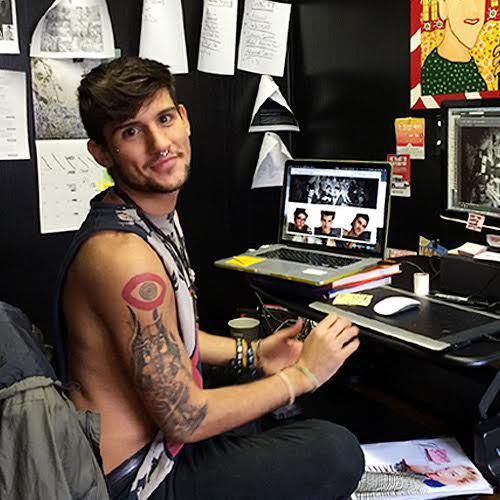 Pete Pagan
Junior Web Developer. Graphic Artist. Digital Warrior.
Ideas are the most powerful weapons in the multiverse.
Pete is a self-taught interactive designer and web developer partially-hypnotized-yet-incredibly-inspired-by advertising design, modern web architecture, tech, social media and internet culture. In his downtime, (if you can call it that...) he's often found ogling over all things metaphoric, gawking at some random geometric formation, obsessing over the occult or glorifying the number 1.618. Pete's really into experimental art, neo-soul, R&B and jazz music and has been known to belt out some hyper ballads in karaoke. He loves reading and learning about visual perception, symbolism, design strategies and enjoys analyzing the psychology behind the chosen representation of forms.
Under Benny's guidance, Pete continues to expand his skills at Cockyboys—learning the Way of the Web and helping to create beautiful interactive web experiences that promote important social messages: #TheresNoSinHere. Ultimately―through visual/experiential artistry, tech & ux design― Pete is following his passion and aspiring towards his true life goal: making some form of positive cultural impact that contributes to the overall advancement of our society.
Bella Karter, daughter of Levi Karter, first made her acting debut in Jake Jaxson's Answered Prayers series. Inspired by the demands of her role, she found herself at a cross-roads: continue her full-time occupation as a domestic, obedient household dog, or further explore her talents as an actress. In 2014 she reprised her role as Levi Karter's dog in Jake Jaxson's new series, Meeting Liam, where she, along with her cast-mates, was nominated for Cybersocket 2016's Best Movie or Web Series of the Year award. After the success of her two films, Bella has taken a short break from acting, and she now resides at her full-time residence in Westchester with her close friend and director, Jake Jaxson. Bella plans to continue developing her talents in film, after she can find a suitable place to hide her toys.
After a short and unsuccessful stint as a show dog, where she lost RJ Sebastian an audition for a dog food commercial, Bailey gave up her aspirations of showbusiness and now lives at home with her three parents. Her much taller and charismatic sister, Bella, went on to pursue the career that Bailey once dreamed to have.
Bailey recovered gracefully, however, and worked from home as a professional foodie. Although sometimes a demanding job, Bailey perfected the art of begging, and to this day she's proud to say that she gets the most scraps of food.
Her career in showbiz resurfaced unexplectedly, however, after entering in the Fort Greene "Pupkin" halloween contest, where she won 2013's first runner-up in her role as sharknado, and 2015's second-runner up as a yellow taxi. Bailey plans on continuing to hit the pagaent circuit, where she believes she may have found her calling.
She currently resides in Westchester with her archenemy, Joey.